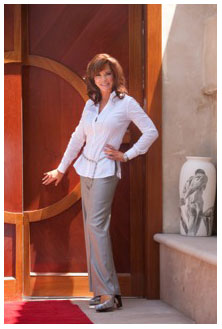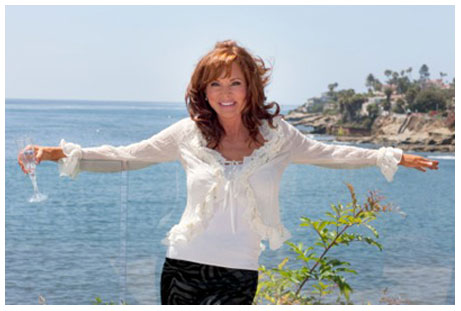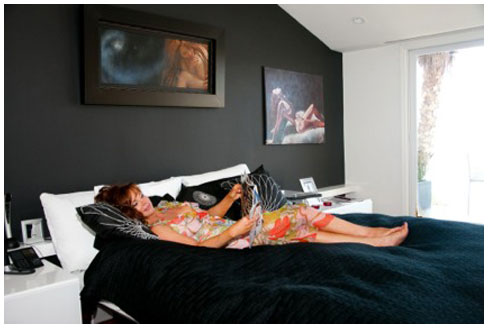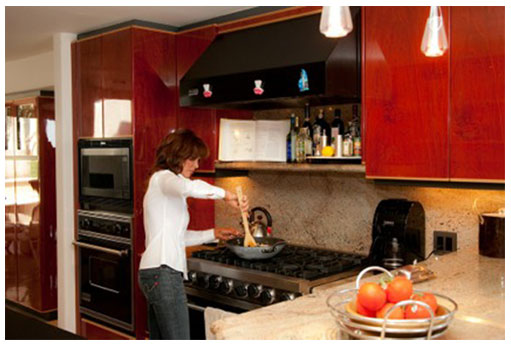 F.B. Your fantasy of a truly romantic evening would be?

Dianne smiles, her big brown eyes looking dreamily out the picture window to the ocean below. She answers with a coquette chuckle, "Chartering a plane to Los Cabos, Mexico for an intimate dinner at Las Ventanas", then she sighs, "Maybe a walk on its beautiful beach, to top it off, would be very romantic."

On cooking, Dianne admits she enjoys it occasionally, especially in the morning. Dianne loves to cook her favorite meal of the day which is breakfast with her favorite food, she acknowledges, "I love omelets".

Does she cook for a man? She throws back her long dark mane and laughs. "I can cook for a man and that could be very romantic," but then she confesses, "I prefer to be taken out."
Dianne admits dressing up in the evening is a preference to casual attire. She adds, "I love black tie affairs!"

F.B. How do you want to be remembered?

D.Y.G. I want people to say; 'She wrote those great books or 'Oh! That makeup she manufactured!' and 'Do you remember how she showed us how to put together that wardrobe?'


F.B. How do you rate other skin care products?



D.Y.G. I don't rate them by price. I rate them by their ingredients and what they do for the skin. I'm like a guinea pig. I try everything to see what really works.



Dianne is proud of her own skin care products, with vita phenol, an ingredient created exclusively by her which includes pomegranate (full of antioxidants), mangosteen which is an Asian fruit, white and green teas. She boasts of her makeup which you can sleep in. She explains, "Unlike traditional makeup, mine is filled with vitamins and allows your skin to breath".

Dianne started to develop her skin care line nine years ago when she had her own labs. Having noticed young adolescents with skin problems and how introverted they became because of it, she developed a skin care product for teens which took care of acne.

Dianne considers herself athletic. Not hard to notice when one looks at her toned fram"apDiv21" style="position: absolute; left: 360px; top: 500px; width: 378px; height: 700px; z-index: 21; background: #000000">

Dianne York-Goldman greets me with her doe like eyes, gentle manner and a slender elegance into her beautiful home overlooking the blue Pacific.

I am guided through the multi leveled home sectioned by glass walls, so clean they go unnoticed and giving the impression that one step too many would end in a fall to the floor below. We end up in the quiet of her sunlit office with ceiling to floor and wall to wall sliding glass, again lending that impression that if I walked one step to far I would fall into the ocean.

Dianne York-Goldman is the quintessence of beauty and brains. She is multi tasked and successful at all she tackles in her life. International media expert, she is a speaker, author, model, skin care creator and business woman. Dianne is the Founder, President and CEO of La Jolla Spa MD, in La Jolla, California. Her Spa, complete with two operating rooms, pampers the nation's most illustrious for procedures covering every service from spa treatments to cosmetic surgery. She is the star of Addicted to Beauty on Oxygen and creator of DYG Mineral Makeup Line. Best of all, York-Goldman is still happiest promoting the talents of others.


Born in Saint Louis, January 15th, (she is a Capricorn), to parents involved in the financial world, Dianne grew up spending evenings listening to her parents talk business, ultimately leading her to a degree in business and finance from the University of Missouri.


A t the advice of Miss York-Goldman's first agent in Chicago, she moved to California in 1988. She chose La Jolla for its beauty and sense of peace. In 1997, while married to a dermatologist, Miss York-Goldman started a medical spa called The Spa, in Encinitas. It was an immediate success after three months. Miss York-Goldman was bought out by a partnership of neighboring doctors who had made daily visits to the spa on their way to their office. Subsequently Dianne wrote four books targeted to beauty basics for young teens. "Teens are like little sponges wanting to learn everything about skin and hair secrets", she winks. "If they learn in their formative years, this knowledge will carry over into adult life." While lecturing and doing book tours, Miss York-Goldman started her own T.V. news program for NBC and created a segment for 'stress around the holidays'. It was shot at the Deepak Chopra Centre in La Jolla, chosen by Dianne for its harmonious environment. During the shoot, Dianne discovered the building was for sale. Wasting no time, she called a realtor and bought the building that day. It is now La Jolla Spa MD.





ARCHIVES:
02.12.10
Grant Cardone
The Greatness of Grant Cardone is not just all business. It's fun for him, too..
11.12.09
Ann Eysenring
Ann Eysenring is an expert on knowing how to mix business and pleasure. Her Malibu lifestyle is a true commentary on this outdoor dynamo.
09.21.09
Francesca Bowyer at Deauville's Sport Of Kings
Since my arrival from America to join my dear friends and horse owners Adrian Pratt, grandson to Lord Lieutenant of Kent, appointed by the late King of England and his wife Leanore at the Hotel Royale in Deauville, France, it has been five days of nonstop activity.

08.03.09
David Applebaum
In the midst of busy Hollywood is a small cul de sac street, flanked by old oaks and magnolia trees shadowing country English and ranch style homes from the hot afternoon sun. My stop is at an impressive modern glass gate which begs curiosity and opens with slow majesty. It is the home and work place of Architect to the Stars, David Applebaum.
07.09.09
The Mastros
It is easy to fall instantly 'in like' upon meeting Robin and Michael Mastro. They welcomed me with a magnetizing ease and grace which seemed to emanate from an inner glow that radiates around them.
06.30.09
DIANNE YORK-GOLDMAN
Dianne York-Goldman: a name to look out for and be remembered.
06.01.09
BEVERLY JOHNSON
She's got the house, the style and quite definitely, "She's Got the Look."
04.25.09
PETER SOLOMON
Behind palatial gates, Peter Solomon lives surrounded by the splendor of his imagination and Lord of his dream Manor.
03.14.09
CAROL CONNORS
To know her is to love her…..
01.07.09
LUISE RAINER
Luise Rainer, with two back to back Academy Awards for best actress, is the last of the great legends.
09.25.08
PHILIP TREACY
Philip Treacy crowns the international elite with plumes of glory. His millinery creativity is sought
after by the world's most celebrated designers.
When she is not working at the spa, she films her new weekly hour long show, "Addicted to Beauty", airing on August 4th for NBC and highly advertized on CNN. It is being produced by the same producers of "Desperate Housewives." Diane explains, "Thirty percent is devoted to the beauty of La Jolla, the other 70 concentrates on medical spas."
F.B. Are you a morning or a night person?

D.Y.G. I'm a night person although work forces me to be an early riser. First thing I do is immediately go for a run, which wakes me up, then to the gym on the top floor of the house and by that time I'm ready to go.

Three days a week are devoted to sprinting for heart rate or running up and down the nearby beach steps. Advice for those who want to exercise but are not sure which is the best course to take, Miss York-Goldman recommends swimming for muscle and cardiovascular. "It's the best exercise of all."

On sleep, Dianne believes at least six if not eight hours a night are essential.

Top on Dianne's list before going to bed is face cleansing with good creams, while vitamins are never forgotten either before retiring or upon rising in the morning. Rather than showers, she enjoys luxuriating in her unique free standing bath.
F.B. Favorite time of day is?

D.Y.G. Definitely the evenings! I love the sunsets, with a glass of champagne. I also love to go out for a nice dinner with a wonderful wine. It relaxes me.

Dianne insists: good conversation is paramount.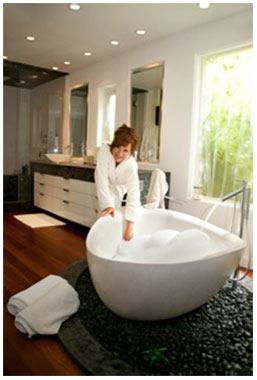 F.B. Favorite reading material is?

D.Y.G. I love to read, but The Travel Bible, by my dear friend Peter Greenberg of the Today Show comes first to mind. It is filled with all the places to avoid and what can happen to you along the way while travelling.

F.B. If you could see one movie repeatedly, which one would you choose?

D.Y.G. The Graduate! It's a classic I can never tire of.

Dianne loves to watch CNN to keep up with current affairs. When she is traveling the world, Dianne York-Goldman always feels at home if she can catch CNN.

F.B. Three most beautiful women in the world to you are?

D.Y.G. I think Angelina Jolie for her style and charity work around the world. Cameron Diaz for her quirky personality and the killer body she has. She's just so much fun and doesn't seem to take anything too seriously. Michelle Obama is another. She has an inner beauty and impeccable style.
F.B. If you were to aspire to be anyone else, who would it be and why?

D.Y.G. Oprah Winfrey and the empire she has built. Not only is she extremely famous but she also gives so much back and is adored by so many. I love her 'go get 'em' attitude, her charitable personality and because she is a powerhouse woman who also has faults and isn't afraid to share them with the world.
Asked about the most irresistible store from which she can't leave without a purchase? Dianne gives a youthful giggle, "Neiman Marcus' has everything and I love Fred Siegel's."

On beauty tip essentials Dianne believes in the right lingerie, lots of good drinking water and exercise.
F.B. What is your favorite getaway?

D.Y.G. Phuket, Thailand which is an hour's flight from Bangkok is paradise to me.

On three essentials Dianne would take if cast away on a desert island: sun block, Balance Bars and a bathing suit. Bach would be her music of choice to listen to.

Her pet peeve is cattiness amongst women. It is a characteristic Dianne does not understand since her days in a sorority where she formed an extraordinary bond to her sorority sisters.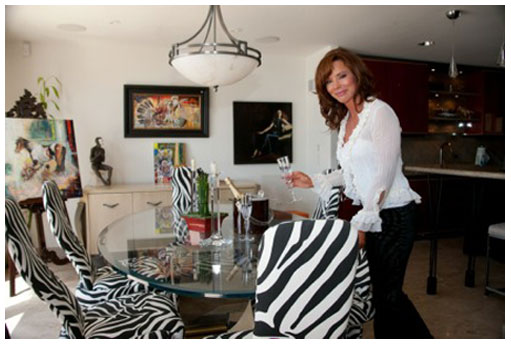 Where does she envision herself in thirty years? Dianne sees her spa business expanded to several more franchises. She also imagines she will own additional residences to her presently beautiful beach home in La Jolla. Dianne speaks five languages therefore, after a pad in New York, possibly another outside the U.S., Monte Carlo and Bangkok being top on her list of favorites.

Favorite restaurants include George's or Mr. A's with its spectacular views over San Diego.

F.B. Do you prefer entertaining at home or out?

D.Y.G. Both, depending of course who I am entertaining.


Often Dianne opens her house for charitable exhibitions, by invitation only, for known and newly discovered artists.
The latest exhibits Dianne orchestrated in her rambling home were a collection of paintings by baseball Hall of Famer, Gene Locklear. Also art works by painter, sculpture and portraitist Jenifer Broomberg. Proceeds from sale of any piece of art go to several charities. Dianne's favorite charity, in memory of her father who suffered heart problems, is the American Heart Association.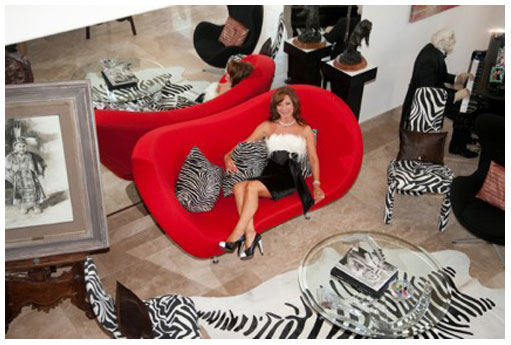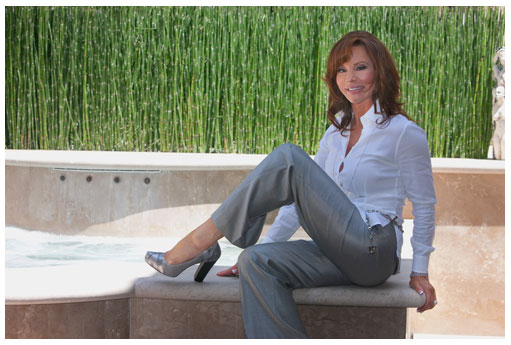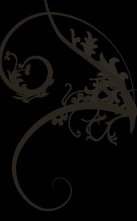 Home | About | Homestyles | Feedback | Contact
All Content is © & ® 2008 Francesca Bowyer - All rights reserved - use of any material published on this website is strictly forbidden.