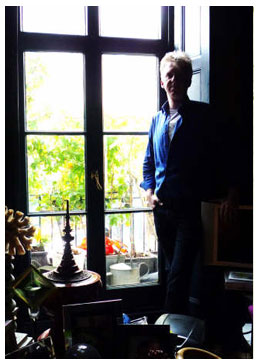 Born one of seven boys and an elder sister in the mid sixties, Philip Treacy was raised on a chicken farm in a small town of County Galway in Ireland, where he discovered his fascination with feathers and what could be done with them. At seventeen he ventured to city life, graduated from the Royal College of Art student.

Philip Treacy is tall, blond and handsome, boasting a boyish charm. Donning simple jeans and crisp blue shirt he welcomes me into his elegant four story Belgravia home.
'You'll have to forgive me', he apologizes with expressive blue eyes and a beguiling smile, immediately making me feel comfortable with this acclaimed icon of fashion, 'but I have been working until three this morning on my new collection.'

We sit at his glass dining table set on a pylon base work of art by Tom Dixon. "I love the mixture of young and old", he explains. The table faces ceiling to floor French windows. The bright sunshine seeps through a potpourri of colorful summer plantings. He tells me he loves the light. It is his favorite spot in the house to think, to work, to draw and entertain.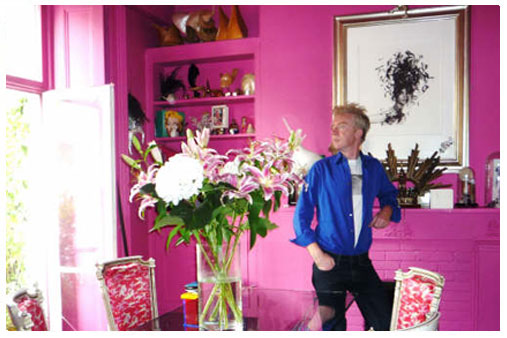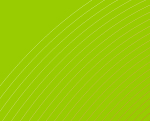 .....Find out how the stars live and uncover the glamorous lifestyles behind "Homestyles of the Rich and Gated."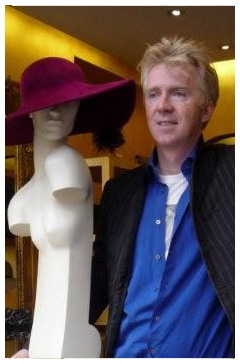 Philip Treacy crowns the international elite with plumes of glory. His millinery creativity is sought after by the world's most celebrated designers. He was commissioned to design the hats for wedding of Camilla, Duchess of Cornwall to Prince Charles.



Philip Treacy is cultured and eloquent. He possesses exceptional sensitivity and perception toward people.
FB What came first the home or the store?
P.T. The store came first. People who come either have very extravagant interiors or minimalist interiors. The store is like a tiny gold box. It is minimalist but the emphasis of the product within makes it quite maximalist.

FB Is that what you did with your home?
P.T. I don't really like so called designer-living minimalist white spaces. They are beautiful to look at on a picture, but quite difficult to live with. I like to collect things, specific things without being very explicit, as my choices are very nonspecific. I choose that which appeals to me whether it's a picture, unique lamp, beautiful photograph, sculpture or any other piece of art. I believe I would call it eclectic. Beauty is in the eye of the beholder. I like a mixture of exoticism and homeliness.
FB There is an explosion of color in each room.
P.T. I love living with strong, beautiful colors. The phenomenal feature of colors is that they make me feel good. Colors change and lend different moods at different times, according to the diverse light during the course of the day and night.

ARCHIVES:
02.12.10
Grant Cardone
The Greatness of Grant Cardone is not just all business. It's fun for him, too..
11.12.09
Ann Eysenring
Ann Eysenring is an expert on knowing how to mix business and pleasure. Her Malibu lifestyle is a true commentary on this outdoor dynamo.
09.21.09
Francesca Bowyer at Deauville's Sport Of Kings
Since my arrival from America to join my dear friends and horse owners Adrian Pratt, grandson to Lord Lieutenant of Kent, appointed by the late King of England and his wife Leanore at the Hotel Royale in Deauville, France, it has been five days of nonstop activity.

08.03.09
David Applebaum
In the midst of busy Hollywood is a small cul de sac street, flanked by old oaks and magnolia trees shadowing country English and ranch style homes from the hot afternoon sun. My stop is at an impressive modern glass gate which begs curiosity and opens with slow majesty. It is the home and work place of Architect to the Stars, David Applebaum.
07.09.09
The Mastros
It is easy to fall instantly 'in like' upon meeting Robin and Michael Mastro. They welcomed me with a magnetizing ease and grace which seemed to emanate from an inner glow that radiates around them.
06.30.09
DIANNE YORK-GOLDMAN
Dianne York-Goldman: a name to look out for and be remembered.
06.01.09
BEVERLY JOHNSON
She's got the house, the style and quite definitely, "She's Got the Look."
04.25.09
PETER SOLOMON
Behind palatial gates, Peter Solomon lives surrounded by the splendor of his imagination and Lord of his dream Manor.
03.14.09
CAROL CONNORS
To know her is to love her…..
01.07.09
LUISE RAINER
Luise Rainer, with two back to back Academy Awards for best actress, is the last of the great legends.
09.25.08
PHILIP TREACY
Philip Treacy crowns the international elite with plumes of glory. His millinery creativity is sought
after by the world's most celebrated designers.
I glanced down for a moment at the gleaming dark oak floors.
Mr. Treacy notices and continues…
"When I first found my home it had lemon walls and industrial grey carpet throughout. Everything looked to apposite. I redecorated according to my style with a pallet of strong colors. I removed the carpet to display beautiful old oak floor boards, few which open up offering a fractional peak of light from the floor below. It lends a certain charm which I like."
There are small, colorful dog beds in the dining and living room. Phillip Treacy has a passion for all animals especially his two Jack Russell's. Like their predecessor, Mr. Pig, who recently died, they go everywhere with him. He explains…
"There is nothing more heart fetching or endearing than the devotion of an animal. The love of an animal is particularly touching because it is so true and unconditional. Their thought process is simply black or white with no grey. They love you or they don't."
Treacy's considers his home as his favorite place to be.
FB Do you enjoy entertaining friends as well as clients?
P.T. I love to entertain but my heavy work and travel schedule don't allow me to that much. To entertain is to be on your stage. Not that I actually perform for people, but people are charmed by this place which takes on a very different and rather dramatic appearance at night than it does by day.
He says no to entertaining clients. 'Just friends as they understand my schedule.' He smiles.
FB Dcy/4f.jpg" width="247" height="353">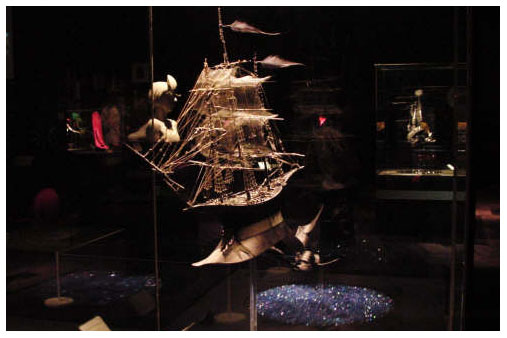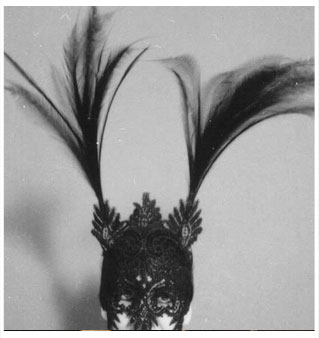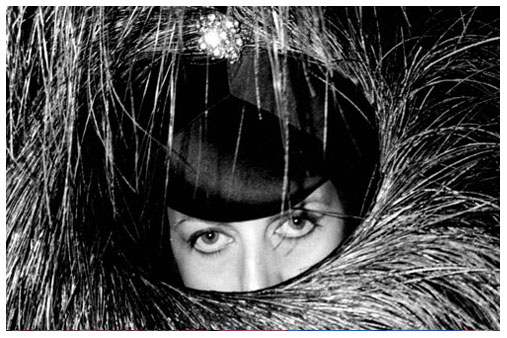 F.B. If you could start all over, what would be your choice profession?
P.T. I would like to be a confectioner, making exotic apparitions of deserts. I do that anyway, except people don't eat the hats. It must be wild spending hours making something that is consumed within moments. I love to work with my hands. That is why I make hats. Working with your hands and creating something from nothing is the most gratifying feeling. It's like food for the soul. You start with a two dimensional material and turn it into three dimensions. That is why I love making hats.

Mr. Treacy likes reading biographies. Most of all he enjoys starting his day reading his newspapers in the bath. He maintains it's a popular culture holding a plethora of information to learn from.

F.B. On a lazy day what do you for relaxation?
P.T. I enjoy walking my dogs. I love roaming around London and its historical landmarks with the knowledge that people have been walking these streets for so many hundreds of years. I love St. James where the famous 'Locks' hat makers have been for generations.
Only fitting for the man with a feather in his talent whose greatest passion still remains; designing hats.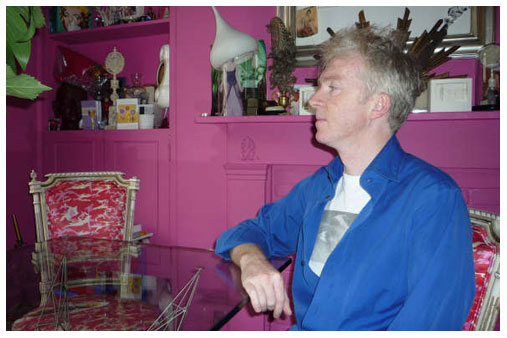 Home | About | Homestyles | Feedback | Contact

All Content is © & ® 2008 Francesca Bowyer - All rights reserved - use of any material published on this website is strictly forbidden.