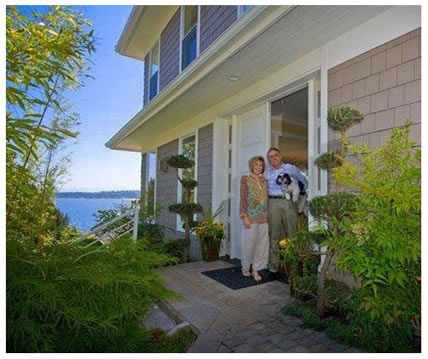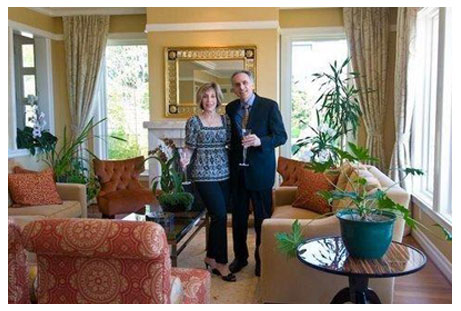 On cooking, Robin admits that after they finish a working day, Michael is the one with more stamina. "He does the cooking," she praises. Michael prefers to leave red meat out of their diet. Robin eats everything. Both are trim and fit.

With full days for both, Michael, who enjoys the morning sunrises best, starts his day a 4.30.am with a shower followed by meditation then on to the computer where he connects with people from all over the world then, with his construction development business, he either goes to the office or a job he is working on.

Michael returns around 6.30 when he and Robin, who works from her office at home, connect over dinner or a walk with their beloved Shih Tzu, Harry Sottini. It is the sunsets and the quiet of the late evening that Robin admits she likes the best. It is a time to reflect and to read. Her current reading material she confesses is, 'Confessions of a Shopaholic'.

On eating out, Michael counts once or twice every couple of weeks. Robin's large grey eyes sparkle, "we have this fabulous new kitchen, so we are relearning to entertain at home."
F.B. How often do you get away for pleasure?
M.M. We are very service oriented people who want to reach out and help people grow in their consciousness, which is a key to our relationship as well. We enjoy travelling and teaching, so it is hard to separate our pleasure from business as we don't really think of it as business. Our business is our pleasure.
F.B. When you travel do you choose your hotel room according to your philosophy in Vastu?
M.M. It's a consideration. The direction that we sleep is conducive to the quality of our sleep.
Occasionally Robin and Michael will change the room. However, when the beds are bolted to the wall, they will sleep across or at the other end of the bed. If a stay constitutes more than a couple of nights, a desk might be moved to face east for the best creative energy in order to write the book they are working on together.
F.B. When you awaken in the morning, who do you see and what do you say to yourself?
Robin laughs as she quotes,..."Dear Father, I ask for healing balance and alignment".
Michael adds "It goes back to those principals of seeing yourself as God, not only everything else, you can't really see everything else as God unless you see yourself as God. We are of God's creation".
Robin chuckles adding, "When I look in the mirror it's usually 'Holy…(Explicative)…did you sleep alright?'


News is watched daily over apple stew and oatmeal on CNN. They save their choice of newspaper, the New York Times for Sundays.


F.B. Who wins the battles?
M.M. I say 'yes'.
They chime in unison, "There is no battle worth heartache".


Their favorite outdoor activity is walking their dog and bike riding around the lake adjacent to their house.

Computers for kids and the trilogy method of learning were developed by Robin as a computer camp for kids who lacked in social skills. It was in the 70's before computers were popular. With a gift of a million dollars from Apple and the NAC Robin's camp offered courses in dance, drama and tennis to develop social aptitude. The children were filmed in all their activities. At the end of the day television would be substituted for these films as entertainment.
Asked what they wished their legacy to be; Michael responded first. "I want to support people, the growth of their life and prosperity. To bring the lost knowledge and sacred science of Vastu back into the open to reduce the stress of the the individual both personally and in the environment so that people can be more at ease and enjoy their lives with less of a struggle.
For Robin, since childhood, without knowing what it meant, she asked 'to be a light in the hand of God.
Their light not only shines, it is also a magnetic force as they fulfill their dream to work closely together, full time with each other and for others.

For more information visit: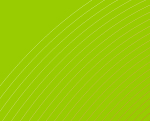 .......Find out how the stars live and uncover the glamorous lifestyles behind "Homestyles of the Rich and Gated."


It is easy to fall instantly 'in like' upon meeting Robin and Michael Mastro. They welcomed me with a magnetizing ease and grace which seemed to emanate from an inner glow that radiates around them.


Their home is a five thousand square foot Government Awarded LEED house (for leadership in energy and environmental design). It sits snuggled in lush surroundings close to a lake, lending a feeling of being somewhere in Switzerland.

Michael, a graduate from the University of Washington School of Architecture and President of Global Construction and Mastro Properties, also studied under Maharishi Mahesh Yogi.

Robin is a graduate of Mills College with a Masters in Whole Systems Design from Antioch University. She lectures on how to create self empowering altars in both home and office alike.

They are the foremost experts in the science of Vastu Shastra, a scientific Vedic scheme of design based on directional alignments for life-enhancing environments, believed to have preceded and possibly formed the basis of the Chinese art of Feng Shui.

The Mastros are a team in work and in life, playing one another like a finely tuned instrument to which they hold the secret to all the notes.
Between writing books and lecture tours this engaging couple still find time to concentrate on what is important. The life they live together is as one. What is their secret?

F.B. What are the principles you live by?

M.M. To live in integrity, with my feelings and a sense of compassion for environment and those within and treat everything with respect. See everything as one, from family, animals and friends; we are all made of the same energy.



ARCHIVES:
02.12.10
Grant Cardone
The Greatness of Grant Cardone is not just all business. It's fun for him, too..
11.12.09
Ann Eysenring
Ann Eysenring is an expert on knowing how to mix business and pleasure. Her Malibu lifestyle is a true commentary on this outdoor dynamo.
09.21.09
Francesca Bowyer at Deauville's Sport Of Kings
Since my arrival from America to join my dear friends and horse owners Adrian Pratt, grandson to Lord Lieutenant of Kent, appointed by the late King of England and his wife Leanore at the Hotel Royale in Deauville, France, it has been five days of nonstop activity.

08.03.09
David Applebaum
In the midst of busy Hollywood is a small cul de sac street, flanked by old oaks and magnolia trees shadowing country English and ranch style homes from the hot afternoon sun. My stop is at an impressive modern glass gate which begs curiosity and opens with slow majesty. It is the home and work place of Architect to the Stars, David Applebaum.
07.09.09
The Mastros
It is easy to fall instantly 'in like' upon meeting Robin and Michael Mastro. They welcomed me with a magnetizing ease and grace which seemed to emanate from an inner glow that radiates around them.
06.30.09
DIANNE YORK-GOLDMAN
Dianne York-Goldman: a name to look out for and be remembered.
06.01.09
BEVERLY JOHNSON
She's got the house, the style and quite definitely, "She's Got the Look."
04.25.09
PETER SOLOMON
Behind palatial gates, Peter Solomon lives surrounded by the splendor of his imagination and Lord of his dream Manor.
03.14.09
CAROL CONNORS
To know her is to love her…..
01.07.09
LUISE RAINER
Luise Rainer, with two back to back Academy Awards for best actress, is the last of the great legends.
09.25.08
PHILIP TREACY
Philip Treacy crowns the international elite with plumes of glory. His millinery creativity is sought
after by the world's most celebrated designers.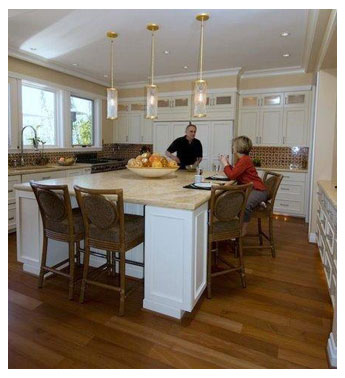 Robin concurs. Her rules: "To be honorable with integrity. To only do what touches my heart". First thought of the morning; "I open myself up and say; 'Divine Mother, guide me, the day is yours, I am but a light in your hand, show me the way'", she continues with her infectious smile, "I start the day that way which usually makes it a good day". Robin, an organizational perfectionist, believes there exists and interesting dance between this musts in her life, and the necessity for compassion in the knowledge that not everyone follows that formula. She adds, "Compassion with me for not being perfect. One does not have to be perfect to be successful," she stipulates.
What is the secret of their nineteen year marriage?

R.M. We like each other.

M.M. We take time out to acknowledge each other without family, pets or telephone interruptions. Especially when there's pressure, things get tense and we do not seem to be connecting. We look into each other's eyes, one person appreciating the other for the smaller and the bigger things and with it we relay the gripes, the regrets, the wishes, always ending with appreciation to come full circle. The listener must not speak or justify, just listen. Sometimes we do this sitting in the bath because there is nowhere to go.

First thing in the morning, Michael seeks to surrender his mind and allow his heart to direct him. Michael is a believer in Yoga. "It creates flexibility and strength to accept a person for who they are, reducing the stress which creates disease in the body and relationships". Robin interjects, "It is very difficult for a Libra man with a Leo woman, but Michaels is exceptional, he is patient with me and adores me", she teases playfully.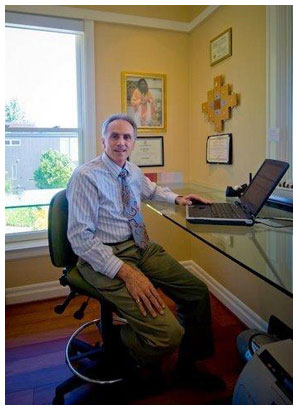 F.B. Do you prefer to entertain large or small groups?

R.M. We used to entertain a huge amount with many of the functions in our other home only a few blocks away. With the Art of Living Foundation that we teach for, we would have a group come once a week to do meditation and then the organization became too big. At the onset we were the original teachers and now there are many teachers in the greater Seattle area. We entertained larger fund raising groups, but with our new home we prefer family and smaller groups.
F.B. Your favorite restaurant is?

M.M. Carmine's! It's Italian. Great pasta! Bizarre, but for twenty two years, four days a week, I've eaten lunch there.

Robin winks, adding, 'it's the Power Lunch restaurant for the business community'.

F.B. Your favorite spare time activity is?

M.M. We love walking with our dog Harry.

He also enjoys laps in the indoor pool.
F.B. You favorite getaway is?

They both agree on Bali and The Four Seasons Hotel at Jimbaran Bay. Robin admits her addiction to the Four Seasons hotels. Rooms are terraced to lend complete privacy and each is like your personal compound with its own infinity pool, outdoor shower, eating and living space attached to the bedroom. Every morning someone comes to say a prayer and bless the room, lending great spirituality.

F.B. Your favorite source of entertainment is?

Robin and Michael look at each other knowingly. Once again they concur. It is Harry, their dog. "Twenty four hours a day", Robin announces. "Every night Michael says 'Harry put me to bed', with which Harry jumps on our Four Season's bed", Robin adds with a modest giggle, "I love Four Season's beds so much, I ordered one and…" Michael continues, "Harry and I spoon and look into each other's eyes until we both fall asleep, while Robin is a little late in the game, makeup cleansing before bed". Robin adds, "Michael is an early to bed person".
F.B. Do you watch television?

R.M. Yes, addicted to Fox's 'Lie to Me" from the producers of 24, starring Tim Roth, as the world's leading deception expert, based on the real-life scientific discoveries of Paul Ekman. For Michael it is 'Real Time' with Bill Maher and The Daily Show with Jon Stewart on Comedy Central. 'So You Think You Can Dance', is another favorite. "Brainless entertainment", they admit. "You don't have to think, just enjoy", Robin points out, it's a good relief from a long days work.

F.B. If you had to bed locked in one room, where would you like to be?

R.M. I just love my office. I have the fireplace, my photographs, my computer, a telephone, everything but my bathroom and I love my bathroom too.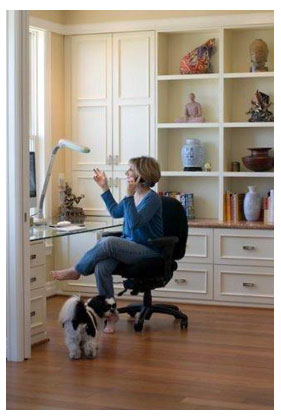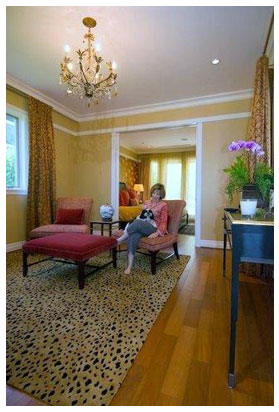 Robin also created Alter Wear Yantra jewelry. According to their geometric symbols and stones they emit a frequency which is a physical representation of a sound carrying a particular energetic vibration. Yantra jewelry, according to its shape and stone, reflects the energy desired to attract. Mastro's relationship necklace uses a pearl, with the energy of the moon to attract relationships. Robin maintains she is never without them as they very calming to women and are not only a symbol of purity but have a possible effect on the hormonal system.

Robin's irresistible shopping haunts are Saks Fifth Avenue, Niemen Marcus and Bergdorf Goodman in New York. She regrets that none of the above exists in Seattle.

F.B. Your favorite corner in the house is?

R.M. My dressing table with a phenomenal hatbox chair in mother of pearl. It is the one piece of furniture which took the longest to get. I designed the entire dressing area around this chair.

Michael claims it is the place where they enjoy convening to talk to each other.

F.B. What do you want to be when you grow up?

R.M. I wanted to do musical comedy on Broadway. My mother was an opera singer, my grandmother a pianist. I'm thinking a torch singer at the Mark Hopkins Hotel.
Michael answers; "I love me. I love what I do. I love my gorgeous wife. I love my dog. I love my whole life."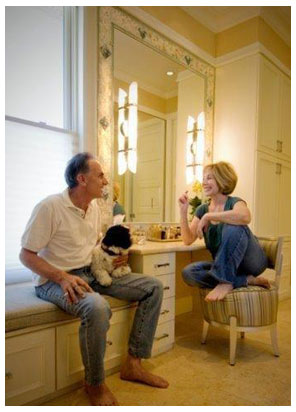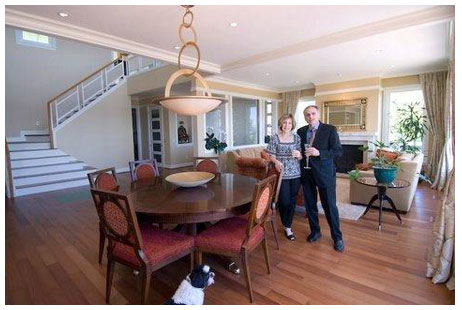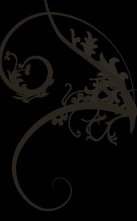 Home | About | Homestyles | Feedback | Contact
All Content is © & ® 2008 Francesca Bowyer - All rights reserved - use of any material published on this website is strictly forbidden.