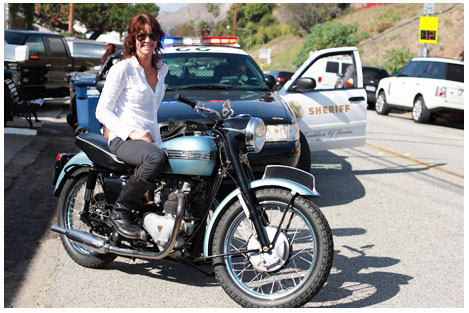 Ann Eysenring is an expert on knowing how to mix business and pleasure. Her Malibu lifestyle is a true commentary on this outdoor dynamo.
Upon arrival I am struck by the sight of her open garage doors. It is organized with an impeccable arrangement of four motorcycles (one is a '1956 Triumph T100', once ridden by
Brad Pitt
in the film
The Curious Case Of Benjamin Button
and in the most recent Indiana Jones movie), a rack of neatly hung wet suits, arranged by color, a selection of surf boards, a yellow pick-up truck filled with bales of hay and an immaculate Range Rover 'for more serious business.'
Four tail-wagging rescue dogs emerge to meet me. They range from a Lab to a Dachshund—whom Ann is trying to herd while welcoming me with a magnetic laughter, complimenting her contagious energy. She is lithe, lanky with warm doe like eyes that dance with delight. Her mind is faster than a metronome could keep pace with.
My mind hits a lyrical line"…She likes the free fresh wind in her hair….life without care…"

But life is not totally without care for this Type A professional who knows who she is, where she's going, what she wants, and how to simultaneously organize work and play.

Born to a Dutch Indonesian father and a mother she refers to as 'Heinz 57 variety' but basically American, Ann was born in Oxnard, raised in Camarillo and Westlake graduating from Camarillo High. When asked where she went to college, the spry 40 year old answers; "I didn't. Film business was my school." Following a successful career in film production with Amblin Studios, now known as DreamWorks, Ann tired of the eighteen hour days. Encouraged by her Mom, a realtor, she obtained a real estate license. "When I was younger it all seemed suburban with nothing but tract homes. I wanted to get out and go into the film business either as a director of photography or general director so I checked it out. I stayed with it for six to seven years. It was then I got into architecture. I enjoyed seeing the 20s, 50s or 60s post modern houses while in charge of the talent, directors and producers and scouting locations and homes."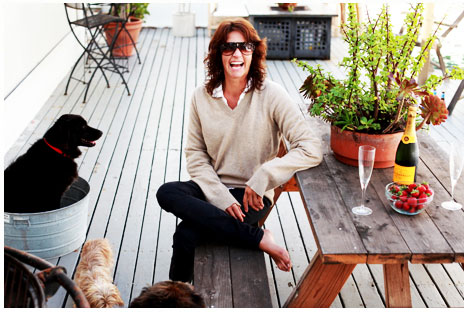 Throwing her head back, she laughs, "I got a lot of my people skills dealing with the actors, directors and with their personalities."
Her first buyer was a co-worker at Amblin with whom she shared the production coordinating job of
Arachnophobia
. Between film and a friendship with
Herb Ritts
who introduced her to the fashion world, today Ann Eysenring's business is half fashion and half film with such luminaries as
Louie Anderson
,
Russell Simmons
, Herb Ritts and
Sally Hershberger
just to name a few.
Ann has remained friends with them all. Ann says her latest most 'fun deal' being in the South of France, "Where we took helicopters to show properties."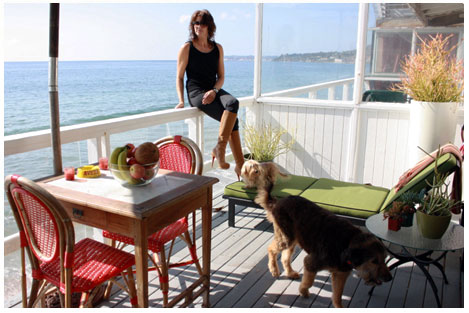 All this does not stop Ann, a Leo, "can you tell?" she laughs, from wanting to expand her ever reaching horizon. I asked if she might be swayed to yet another profession.
Eysenring replies, "I have done some different things. I have a friend who I am actually just starting a private investigative company with. That's fun. She has her license and when she asked if I would do this with her I thought, 'yeah, why not.'"
F.B. Is this your dream home?
A.E. Oh yeah! It's not my last home. My dream home I will build. But this is my dream location.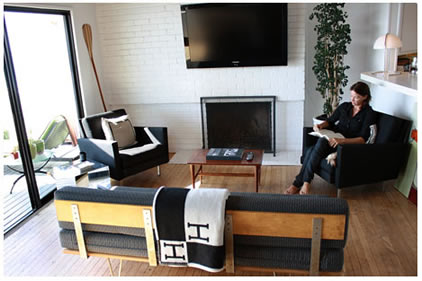 My eyes wander around the minimalistic décor which seems to maximize the expansive view over the ocean though sliding glass doors to a living area deck. One wall entirely filled with a library of books on architecture and fashion. She is definitely an outdoor girl; suffice to see so many outdoor living spaces surrounding her home. One is an underlying deck living space backed by a wall of surf boards.


F.B. Have you ever shown a home you wished was yours and secondly which was your favorite
.


A.E. Many! But my favorite homes are not necessarily my favorite because they are not my favorite location. So I pick and choose. For instance, I love the décor of the Prada store in Aspen. I want to build that design here on the ocean.


Being by the water is paramount for Ann.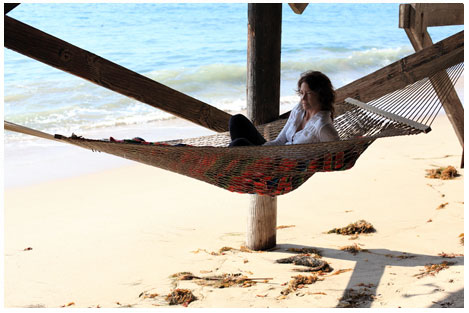 F.B. Are you a homebody?
A.E. Yes. I don't see any reason to leave the house, other than to go motorcycle riding.
Ann is a news junkie. She admits the television is on all the time.
CNN
is her preferred choice. She recently cancelled her newspapers, but for Thursdays through Sundays. I'm on the computer all the time, so I don't get the paper as much as I used to."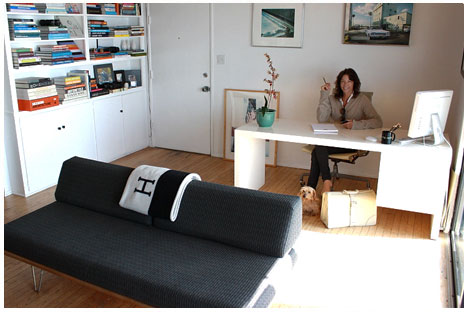 F.B. If you would have to be confined to one space in your home, where would it be?
A.E. My desk! Because from there I can see the ocean; I have my computer; I can watch my television; I have a view into the kitchen so when my friends come over and want to cook and I can see them. Basically I can see everything from that corner.
For the end of the day relaxation Ann looks forward to seeing her dogs, sitting on the sofa with them, lighting a fire and watching television.
Ann Eysenring has an open door policy at her house. "I love to entertain at home. Many of my friends wander in from down the beach or from the 'Valley', they'll call to ask 'what're you doing?' and I'll just say, let's hang out."
Eysenring also likes to go out to restaurants. Her three favorites are El Compadre on Sunset for Mexican food, the
Chateau Marmont
, "mostly for its atmosphere," in Malibu she likes Nobu for its Japanese clean food.
"I'm most relaxed when all my friends come over here. That and of course my motorcycle riding which permits me to be away from the phone, CNN, and of course my computer and," she adds with a white toothed smile, "
Facebook
!" Ann enjoys Facebook for fun only, not business. She explains it has reconnected her with people from high school and keeps her up to date with what her friends are up to. How does she keep business and fun on her computer separate?
"I'm multi tasked and I do both," Eysenring admits. "It's usually on two separate computers, with Facebook on one and all the real estate sites with my multiple listings on another screen.
F.B. Do you cook?
A.E. "I never cooked in my entire life until lately. I have been into organic foods. Growing up in Ventura County I remember as a kid the crop dusters coming down with all the pesticides and my mother, who is alright again, developing thyroid cancer as did others, so I have been into eating healthy. I have had a couple of people in my life who are real health nuts. One friend, who is very much into weight loss, taught me about eating healthy. She threw out everything I had in my kitchen then, noticing the toxins in my hair products or makeup, she insisted I throw those out too. So now I take what I put in and on my body to a whole other level. As a result I have been eating a lot of raw foods, no meat, hard as that may be to maintain. I have never felt better."
Ann takes fitness seriously, working out five days a week. She maintains many of her friends are fanatical fitness trainers, who she absolutely loves. Several are different types of trainers so she can diversify. Eysenring even entertained the idea of becoming a fitness trainer herself.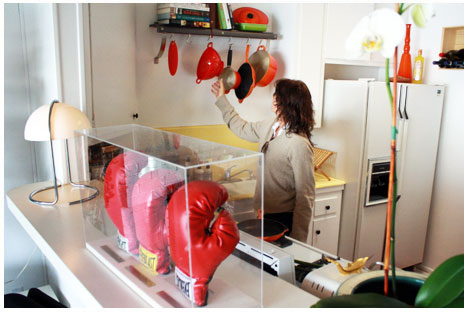 F.B. What is your musical preference?

A.E. I don't listen to a lot of music but if I am in the car I love 'the chill station' on my Sirius radio.

F.B. How do you like to spend a rainy day?

A.E. By the fire or on the beach and crazy as it sounds, I love to be driving in my car when it rains, especially with the mud and rocks possibly falling. I love the drama of it all.
On movies, Eysenring doesn't really go anymore. Ann explains, "I used to go to every movie possible. I would never walk out. I wanted to see if it got better or worse, either way. After I left the film business, the concept of multiple movie theatres with tiny projection rooms made Ann Eysenring insane. "I want to go where an evening at the movies is an event. I want to go to somewhere like ABC which was one big-screen movie theatre. After I got so annoyed going to the movies because I was not sure if I would get a big screen or small one, I just stopped going to the movies".

Ann Eysenring loves the theatre, travelling often to New York for business she will always catch all the shows she can.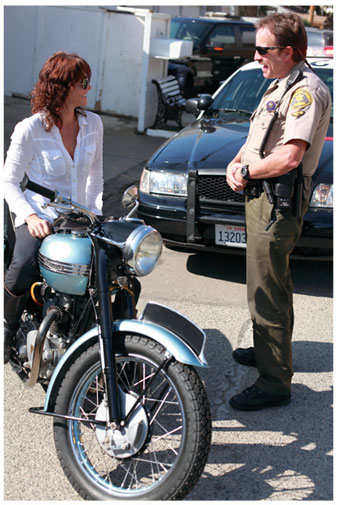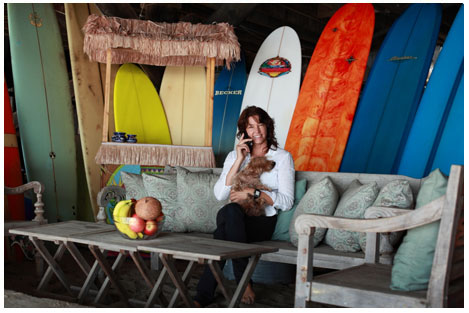 F.B. What is your greatest passion?
A.E. Surfing and photography!
F.B. What is your one fantasy and your ultimate dream?
A.E. Oooo! My fantasy! To be perfect and never have to be worried about anything!
Once again she throws back her black mane laughing. Then pensively continues. "My ultimate dream is to take Catalina Island, turn it into a real destination and make it fantastic".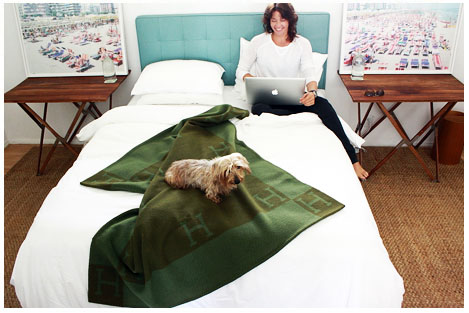 F.B. Do you consider yourself a perfectionist?
She responds, "Need you ask?"
Looking around everything has its place. Her bedroom closet is flawlessly organized with black and white outfits. An uncountable collection of aviator sunglasses readily available in a top drawer. Her designer shoes and
Louboutin
boots are neatly accessible, many with four inch heels to give even more height to her already slender and compelling stature. Everything is spotless with its perfect place.
F.B. Are you a romantic?
A.E. I'd like to be more of a romantic.

F.B. What is the biggest misconception in real estate?
A.E. That anybody wants to sell you anything they can. When I sell a home I look at the person for who they are as individuals. I watch how they move, inquire about their lifestyle even look at what they drive, how they dress. It comes down to their lifestyle as well as persona.
F.B. What was your most embarrassing experience?
A.E. I was invited to meet someone in New York. I was told we would get along great and that I would really like this person. I was really happy and looked forward to meeting her. It was raining. The steps were freshly painted. I slipped, plummeted all the way down and broke a heel off my shoe. Mortified, I thought "what am I going to do now?" This new friend saved the moment, immediately asking my shoe size. Turns out we wore the same size shoe and immediately she lent me a pair and said, "Let's keep it going." I thanked God!

F.B. Who is your number one hero?
A.E. There are so many. Madeleine Albright is the first to come to mind.

F.B. What do you say to yourself when you take you look into the mirror first thing in the morning?
Ann chuckles. "Botox, maybe? Usually it's the vanity thing," she kids. "But then it turns to 'what am I going to do today?' And it's usually a balance between fun and work. I could have fun all day, but I know I have to work. I go on my computer, get my list together and organize my day.
F.B. When you get a middle of the night thought, what do you do?
She sighs. "Oh God, that's the worst! I hate that! I usually turn on the T.V., put it on a timer and try to fall back to sleep, if it's something really good I'll go to my computer and email myself.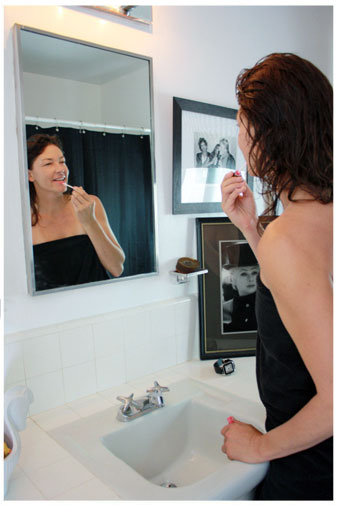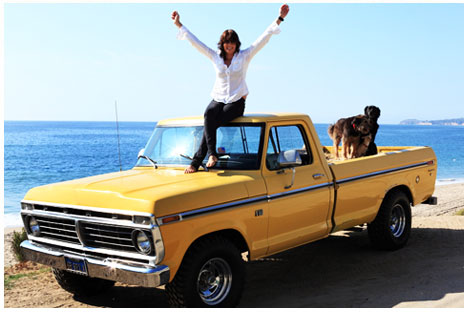 F.B. What does the little girl inside want to be when you grow up?
Ann Eysenring laughs. "I never want to grow up."
F.B. The most important factor you look for in a friend or partner?
A.E. Honesty is number one.
F.B. What do you want to achieve in your life that you will always be known for?
Another hearty laugh rings like music through the room as she answers, "Having a good time. Isn't that what it's all about?"
Ann Eysenring
. She is a light of life with beauty and brains and a flair for all she does.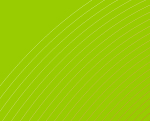 .......Find out how the stars live and uncover the glamorous lifestyles behind "Homestyles of the Rich and Gated."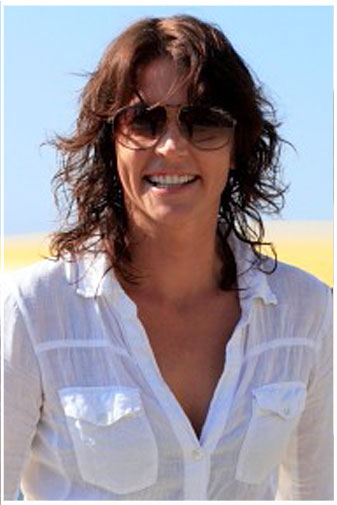 ARCHIVES:
02.12.10
Grant Cardone
The Greatness of Grant Cardone is not just all business. It's fun for him, too..
11.12.09
Ann Eysenring
Ann Eysenring is an expert on knowing how to mix business and pleasure. Her Malibu lifestyle is a true commentary on this outdoor dynamo.
09.21.09
Francesca Bowyer at Deauville's Sport Of Kings
Since my arrival from America to join my dear friends and horse owners Adrian Pratt, grandson to Lord Lieutenant of Kent, appointed by the late King of England and his wife Leanore at the Hotel Royale in Deauville, France, it has been five days of nonstop activity.

08.03.09
David Applebaum
In the midst of busy Hollywood is a small cul de sac street, flanked by old oaks and magnolia trees shadowing country English and ranch style homes from the hot afternoon sun. My stop is at an impressive modern glass gate which begs curiosity and opens with slow majesty. It is the home and work place of Architect to the Stars, David Applebaum.
07.09.09
The Mastros
It is easy to fall instantly 'in like' upon meeting Robin and Michael Mastro. They welcomed me with a magnetizing ease and grace which seemed to emanate from an inner glow that radiates around them.
06.30.09
DIANNE YORK-GOLDMAN
Dianne York-Goldman: a name to look out for and be remembered.
06.01.09
BEVERLY JOHNSON
She's got the house, the style and quite definitely, "She's Got the Look."
04.25.09
PETER SOLOMON
Behind palatial gates, Peter Solomon lives surrounded by the splendor of his imagination and Lord of his dream Manor.
03.14.09
CAROL CONNORS
To know her is to love her…..
01.07.09
LUISE RAINER
Luise Rainer, with two back to back Academy Awards for best actress, is the last of the great legends.
09.25.08
PHILIP TREACY
Philip Treacy crowns the international elite with plumes of glory. His millinery creativity is sought
after by the world's most celebrated designers.


Home | About | Homestyles | Feedback | Contact
All Content is © & ® 2008 Francesca Bowyer - All rights reserved - use of any material published on this website is strictly forbidden.